Product Description
Here's a CCTV WIFI IP CAMERA that you can easily set up in minutes, insert 64GB Micro SD Card (not included) check footage of about 3 weeks remotely or on your laptop. Check live footage from anywhere in the world on your mobile, day and night. You can remotely pan and tilt the camera and check each corner of the room you've installed this Smart Smiledrive Plug & Play Cam.
Features
EASY PLUG & PLAY
Install in minutes on your iOS or Android device by installing free APP V380. Follow the manual and in no time at all Smiledrive Plug & Play IP cam would be working on your mobile.
Multiple people can access the live footage at the same time (however, as number of people watching the same footage increases, there can be holds & pauses in the video). Also in the laptop software, you can check as many as 64 cameras simultaneously.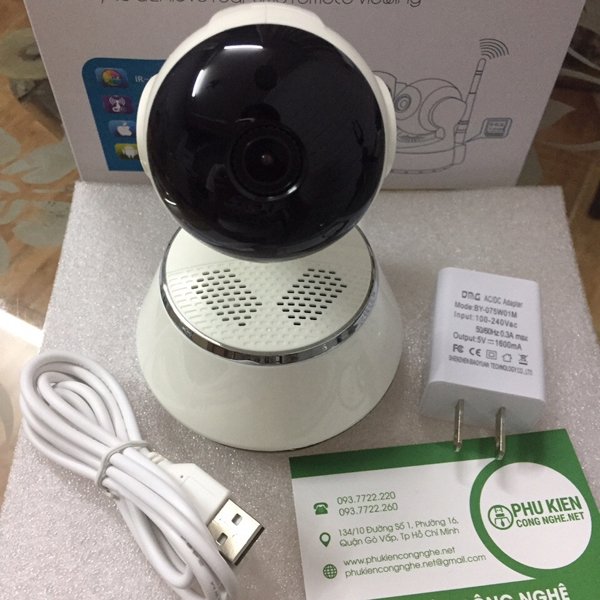 NIGHT VISION
The camera automatically switches on the night vision as soon as the ambient light stops. The infrared enabled night vision enables you to see clearly in low light or dark conditions as well.
SMALLEST MEMORY STORAGE
Advanced Patent H.380, 16GB (TF card) = 24H*8Days*25fps.
H380 is 8 or 10 times powerful of H.264 and H.265.
SPEED-UP VIDEO CONNECTING
NO 1 video connecting speed (<1s)
720P live view no break (even with ADSL).
SUPER MULTI USER VIEW
Creative VNN cloud, no limited quantity of viewer.
No Jam better than PSP (only 2 or 3 viewer).
SHARPEST IMAGE LEAD THE FIELD
Professional Macro algorithm with OV9712 SENSOR.
Real nature image day & night.